Here are 10 great veggies to grow at home in your Organic Garden.
Sometimes if space is limited, it is difficult to know just what vegetables and or fruit you should be growing yourself.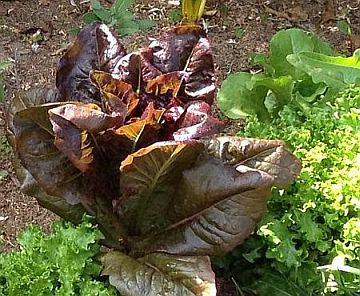 The reasons you might decide to try growing your own might depend on the cost of certain items from the store. As you are no doubt aware, some veggies and fruits are more expensive, so you might figure you can save a bit of extra cash, if you decide to grow the more expensive produce, and just purchase the less costly items.
Perhaps your main motive is to grow organically the food that you are going to be eating the most, so that you have it on hand.
Maybe you just want to start growing the plants that will be easiest to grow, so you can work up your gardening skills…
Well, regardless of the reasons behind your deciding what to grow, here are some suggestions that go pretty well in an Urban Garden… Or any garden for that matter 🙂
[squarebox id=3]
Popular Veggies You Can Grow
Tomatoes – For the most part we use this as a vegetable, but I think we all know that technically it is a fruit… One advantage of growing your own, is that you get to let them ripen on the vine, and that just improves the flavor out of site!
Unfortunately, the store-bought produce, for the ease of transport and freshness, is usually picked green and then artificially ripened, and that just never tastes the same. Shelf life is another consideration that will impact negatively on the quality of the end product and yet another reason why growing your own is so much better.
Home gardeners frequently choose to grow their own tomatoes, and once you have tasted your own delicious vine-ripened tomatoes, you will wonder how you ever ate those store bought ones.
Lettuce – Yet another very popular choice for the home gardener is lettuce, and usually grown in many forms. Because there are so many varieties, and they lend themselves very well to pick-as-you-go. You can just pick off the leaves you want and do the same next time you need some salad greens for your menu.
Some of the more exotic varieties of salad greens and Asian greens can start to become a bit more costly, than you typical ice-berg lettuce, so it is good to be able to grow a variety of leafy greens.
Peas – One of the tastiest delights in the garden is picking young tender peas and eating them straight off the bush. The other big advantage of growing your own, is you can grow a lot more than you need for now, and preserve some for later in the year when they are no longer in season.
Often it is difficult to find fresh peas in the store, so if you have the space then it would be well worth growing enough to freeze, can or dehydrate some to add to your food stores.
Carrots – If you want to discover just how yummy carrots can be, then definitely grow these for yourself! You can pick some of them young and get to taste delicious, sweet, juicy carrots.
Store bought carrots pale in comparison (as does pretty much all of your fresh produce) to your home grown ones.
This is another vegetable you can grow extra quantity and then preserve for an all year round supply.
Radishes – These are one of the veggies that are frequently chosen for children to grow, to introduce them to the wonderful world of gardening… They work well as a beginner gardener's plant because they grow very quickly and they will also grow in containers without any issues.
While radishes can be quite hot, you can get some varieties that are not, and when they are picked young they are again, sweet, juicy, crispy and very yum. A great addition to salads.
Asparagus – This is really a treat, and nearly always very expensive to buy. They are not that difficult to grow at home, although you do need to know a few things about them. For instance, they take a couple of years to establish and to start producing spears (well most varieties do at least).
Again, picked tender young spears can be eaten raw or lightly cooked and they are full of flavor.
Peppers – So versatile for so many recipes; raw or cooked when you can go and pick your own home grown peppers you get to experience just how delicious they can be.
These are another fruit that we use more as a vegetable, and they are full of vitamin C, so great for, warding of colds and flues. These are another vegetable that can be costly from the store.
Cucumbers – Well I seem to be favoring the 'veggie-fruits' here… There are a few different varieties of cucumbers you can grow at home, and one of my personal favorites is the Lebanese cucumber or the continental. They have soft skins so are easy to eat with the skins on, and I always prefer to minimize any peeling of vegetables so I don't waste a lot of the nutrition.
Corn – Sweet corn is yet another tasty veggie… well there is a bit of debate over whether it is a vegetable, fruit or a grain, but for the sake of this article, we grow it and eat a lot of it fresh, so I am happy to call it a vegetable.
Again, it is another one of those home grown delights, that you can enjoy raw, but one tip, is that you only pick the ears when you are ready to eat them.
Or, if they are ready, then just decide to eat them straight away because they do deteriorate after only a few hours after harvesting, which is yet another good reason to grow your own.
Strawberries – I wanted to finish on an all-time favorite and one of the most tasty treats you can grow in your home garden; the strawberry. Of course, just like all the other produce you can grow yourself, the taste of these when they are grown on rich organic soil is just something you have to try to fully appreciate.
Store bought punnets are often disappointing, both in flavor and quality, and they are usually not cheap to buy, either.
So there you go; some of the most popular plants to grow in your home garden. Take your pick, or choose from so many other options available… but whatever you do, make sure you start to grow something as soon as possible… Even if it is just some strawberries in hanging baskets!
One other tip…
Don't forget to choose the open pollinated or heirloom varieties to grow yourself at home, aside from being more hardy and resistant to problems they have that full of flavor deliciousness quality about them. After all, if you are going to go to the trouble of growing your own fresh produce, then you might as well be growing the best!