If you love to grow flowers or your own produce, living in a city can be a big sacrifice. Fortunately, urban gardening is on the rise, and it's becoming more and more popular in big cities all across the country. Even if you've never had a garden before, growing one on a smaller scale in an urban environment is a great way to get started with learning the basics. All you need is some space for growing your greenery and a few beginner tips that will help you get great results in any environment.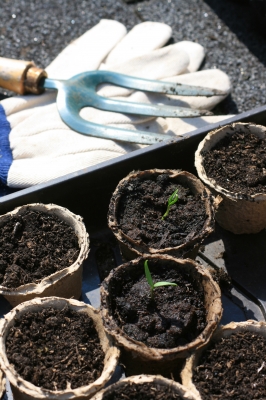 Before you get started, decide where you are going to grow your new garden. Some urban buildings now have rooftop gardens, but they are usually off-limits to non-residents. If your roof is in good shape but isn't being used, you can bring up the idea of making it into a garden for residents to your landlord. If the roof is well-maintained and can be easily converted into a garden with subplots for different residents, it can be a big draw to new tenants, so it's definitely something your landlord will want to consider.
You can also look up community gardens in your area. Many cities have large community gardens that are open to residents within the nearby neighborhoods. Another option is to start your garden in your own apartment. If you lack space, all you really need to grow a few plants or even to grow produce you can use for cooking is soil, seeds and containers.
Regardless of where you plan to plant your garden, chances are that you are going to be dealing with a limited amount of space. After all urban gardening is all about growing plants in tight spaces. That's why it's important to do your research on the type of plants you should grow before you buy your seeds. Some plants need plenty of room to stretch out their roots, so you are going to want to avoid them.
If you are interested in gardening specifically because you would like to try growing something you can use in your recipes, try planting a herb garden. Herbs don't require much space, and they are very easy to work with, so they are perfect for small indoor gardens in apartments.
Once you have an idea of the type of plants you want to grow, start looking for seeds. You can usually find them in garden stores, but you can also purchase them online. Many health and wellness stores in cities also carry seeds and other garden supplies that are specifically designed for urban gardening and farming.
While there are many different optional supplies you can get for gardening, all you really need is soil, containers, seeds or plants, sunlight, fertilizer and water. Other supplies can make gardening easier, but they are not a necessity, and you can always get them later if you are on a tight budget.