Fresh herbs for Flavour & Health
Growing herbs can be very rewarding and a lot of fun as well…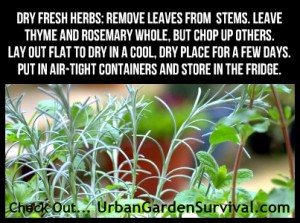 I really love growing and using fresh herbs… there are a few in my garden at the moment (not as many as I would like… 🙂 ).
Aside from parsley, which is probably the one I use the most… and Basil (I use it a lot as well)… Three of my favourites are Rosemary, Thyme and Sage; mainly because of their great medicinal uses. They are excellent for using in teas to fight off colds and flu (I call it 'stuffing' tea because they are herbs commonly used in stuffing recipes).
I have tried a few methods for drying or dehydrating herbs for storage, and some of them were a bit of a fail.
The main thing to keep in mind when drying herbs to store, is you want to maintain as much of the nutritional qualities as you can. The more chemical components; nutrients and medicinal qualities that remain intact and as potent as possible the better.
Obviously, like any food, the very best way to benefit from herbs is to use them freshly picked, however, this is not always possible. Of course just using them in your every day cooking is always a good way to use them and even if you don't have a lot of space, you can always grow a few favourite herbs in suitable growing container in your kitchen, or on a sunny balcony.
Perhaps you don't have your own herbs growing at the moment, or you don't have all the herbs you want to use growing as yet, then you might need to purchase fresh herbs to use and then you will need to store them depending on how quickly you will use them of course…
Some Tips for Keeping Fresh Herbs Fresh…
Place long stem herbs like parsley, basil and cilantro in a vase or container of water. Just keep them at room temperature, and you only need a little water just so the bottom of the stems can draw up the moisture. This should help your fresh herbs to stay fresh for around a week.
For herbs like thyme, rosemary and chives, which don't have the long stems, you can put them into a plastic bag… (The type you might store your vegetables in, in your refrigerator.) It is also helpful to include a piece of paper towel so any extra moisture can be absorbed. You would then store this in your crisper compartment, or in the door of your refrigerator, so that it is away from the coldest air.
Don't wash your fresh herbs before you are ready to use them… this will only speed up their wilting.
Another option for storage if you need to keep them for longer than a week, is to freeze them.  The best way to do this is to first prepare your herbs by removing the leaves from any stems. Add the leaves to a plastic Ziploc bag, keeping them in a single layer and removing as much air as possible before you seal it. These packs of herbs can then be laid flat and even stacked in your freezer for future use.
Drying Fresh Herbs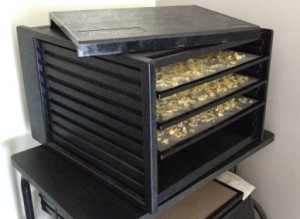 Drying or dehydrating your herbs is a great option for longer term storage… especially if you are growing your own and you find some times of the year you have a lot more than you can use at once.
The thing to keep in mind here, is that you want to dry them when they are as fresh as possible, and as quickly as you can, so as to preserve the beneficial ingredients of each of your herbs.
While storing dried herbs can prolong their use time, the quality of the herbs will still deteriorate over time. The time they stay most potent will depend on how well they are stored, assuming they are dried properly initially.
Tips for Drying and Storing Dried Herbs:
(As with freezing) Remove the leaves from any stems.
For herbs such as thyme and rosemary, you can leave them whole, however, for  herbs like parsley, basil and cilantro you will want to chop them to a suitable size.
If drying naturally – You will need to keep them in a cool, dry and airy, place for a few days until they are completely dry… Putting them into a net bag and hanging them can work for this, or even a brown paper bag.
If using a dehydrator – You will prepare them same way, and then make sure to select the settings on your drier to maintain the most nutrition. (Check the settings on your dehydrator – usually dry around 95 deg F or 35 deg C…
Adjust the heat according to the type of herbs you are drying, for example, you might need a warmer heat if you are drying larger and thicker leaves like bay leaves.
Tips for Storing Dried Herbs
Having a store of food is always a good idea even if just for emergencies or for when you might have forgotten to get something from the store… Herbs should be a part of your food storage so you can get the benefits of using them all year round in your cooking or for home remedies. The enemies of storing any dried foods are, sunlight, heat, moisture and oxygen.
Storage Tips to Keep in Mind:
Use resealable containers – for shorter term, you can use a BPA free plastic – for longer term storage try using sealable glass jars or other air-tight containers.
Add oxygen absorbers to extend the shelf life beyond a few months – especially good to use even for shorter term storage if you happen to live in a humid climate.
Refrigeration will extend the life of your stored food, even when dried. Cooler temperatures are helpful, but you will want to make sure the containers are sealed and contain absorbers to help prevent mould and spoilage.
Don't use mouldy herbs – Even if you think that there is only a little on the side of your package that is affected by mould, and you cannot see any signs elsewhere, it will have contaminated the whole lot beyond what is visible to the naked eye. Eating mould is detrimental for your health. Always discard food, including herbs if there is any sign of mould.
If you are not confident with your long term storage methods or conditions then try to make sure you use your dried herbs within a year or less.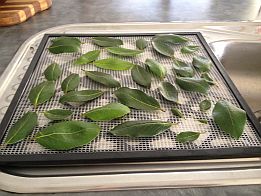 If you have never tried drying your own herbs, then there is always a little bit of trial and error to start with.  Just keep in mind that natural air drying will be greatly affected by your climate and the conditions that you are able to dry them in.
As I mentioned earlier, you want to retain as much of the beneficial qualities of the herbs as possible, including the colour. When natural drying conditions are not ideal, then you might find that the colour fades more than using a quicker method, like in a dehydrator, or you might find that mould starts to form before they have fully dried.
So you just need to use some common sense and you should have no problem.
One Final Tip…
If all other options are not suitable for your situation, you can use an normal oven. Just make sure it is set at a very low temperature.
Another option, is a solar oven, if you have access to one, or you can make one, providing you can stop it getting too hot, and you can maintain a good air flow around the herbs.
Certainly, mastering the art of drying and storing herbs is a great skill to have and will make it a lot more economical if you want to start making your own natural remedies at home or enjoy the addition of herbs to your meals or teas.